Introduction
Thickness:0.2-500mm,etc
Width : 1000-4000mm,etc
Length: 2000mm, 2438mm, 3000mm, 3500,6000mm,12000mm,or customized
Standard: ASTM,AISI,JIS,GB, DIN,EN
Technique: Cold Rolled, Hot Rolled
Material: A106A-B、Q195、Q215、Q235B、Q255A、Q275、08F、45#、20#、Q295、A516 GR.70、Q345A-B、Q420、Q460E、T7、T12A、T8Mn、DR510-50、DRI750G-35、25CrMoVA、30CrMnSi、 50CrVA、4CrW2Si、SS400、A36、SM400A、P235GH、P295GH、St37-2、SA283Gr、S235JR、S235J0、S235J2
Packing:Standard export packing (inside:water proof paper,outside:steel covered with strips and pallets)
Carbon steel sheet is an iron-carbon alloy with a carbon content of 0.0218% to 2.11%.
It is also called carbon steel sheet. Generally, it also contains small amounts of silicon, manganese, sulfur and phosphorus.
Generally speaking, the higher the carbon content of carbon steel sheet, the harder and stronger it is.

Carbon
Steel Plate Chemical composition
Chemical Composition

Grade

C

Si

Mn

Cu

Ni

Cr

Mo

P

S

Q245R

≤0.20

≤0.35

0.50~1.10

≤0.30

≤0.30

≤0.30

≤0.08

≤ 0.025

≤ 0.010

Q345R

≤0.20

≤0.55

1.20~1.70

≤0.30

≤0.30

≤0.30

≤0.08

≤ 0.025

≤ 0.010

14Cr1MoR

≤0.17

0.50~0.80

0.40~0.65

≤0.30

≤0.30

1.15~1.50

0.45~0.60

≤ 0.020

≤ 0.010

12Cr2Mo1R

0.08~0.15

≤0.50

0.30~0.60

≤0.20

≤0.30

2.00~2.50

0.9~1.1

≤ 0.020

≤ 0.010

15CrMoR

0.08~0.18

0.15~0.40

0.40~0.70

≤0.30

≤0.30

0.80~1.20

0.45~0.60

≤ 0.025

≤ 0.0

Packing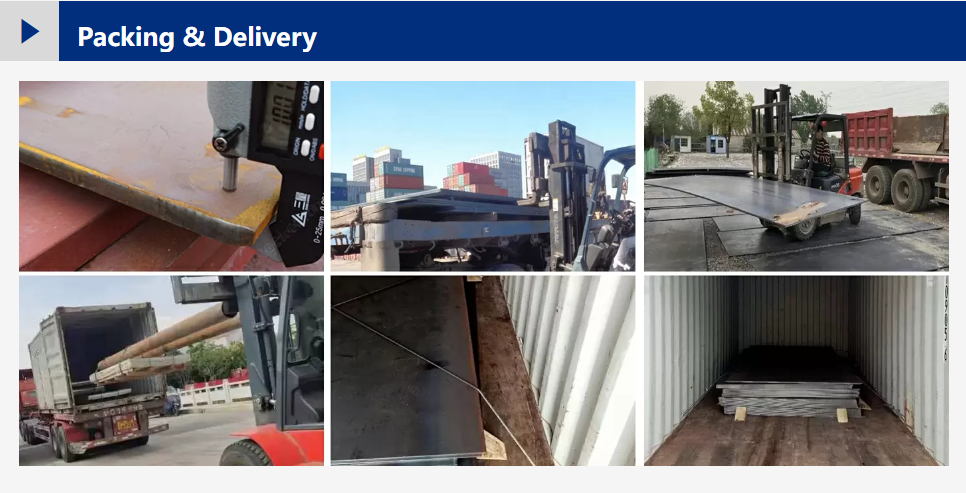 Our factory