I
ntroduction
Carbon steel pipe cap is also known as head cap which is used to weld or install on the male thread of end of pipes for blocking the pipelines. It has same function as plug and blind flange.
Steel pipelines includes pipes, fittings, flanges, gaskets, valves, bolts and nuts. It is important to select proper piping material to ensure system safety and durability at appropriate cost.
We can produce pipe fittings & flanges in customized size as per customer required. Usually stock the dimensions in accordance with standards of ASME B16.9, B16.5, B16.11 & BS3799. Our goods are good for waterproof the connections to avoid leakage, and laso can work high pressure and temperature situation.
Types of Carbon Steel Pipe Cap
Carbon Steel Butt Weld Cap

Stainless Steel Socket Weld Cap

Carbon Steel Threaded Pipe Cap
ASME B16.9 End Cap Dimensions
ANSI / ASME B16.9 Standard covers overall dimensions, tolerances, ratings, testing, and markings for wrought factory-made butt-welding fittings in sizes NPS 1/2 through 48 (DN 15 through 1200) and thickness Schedule 10, 20, 30, STD, 40, 60, XS, 80, 100,120,140,160, XXS.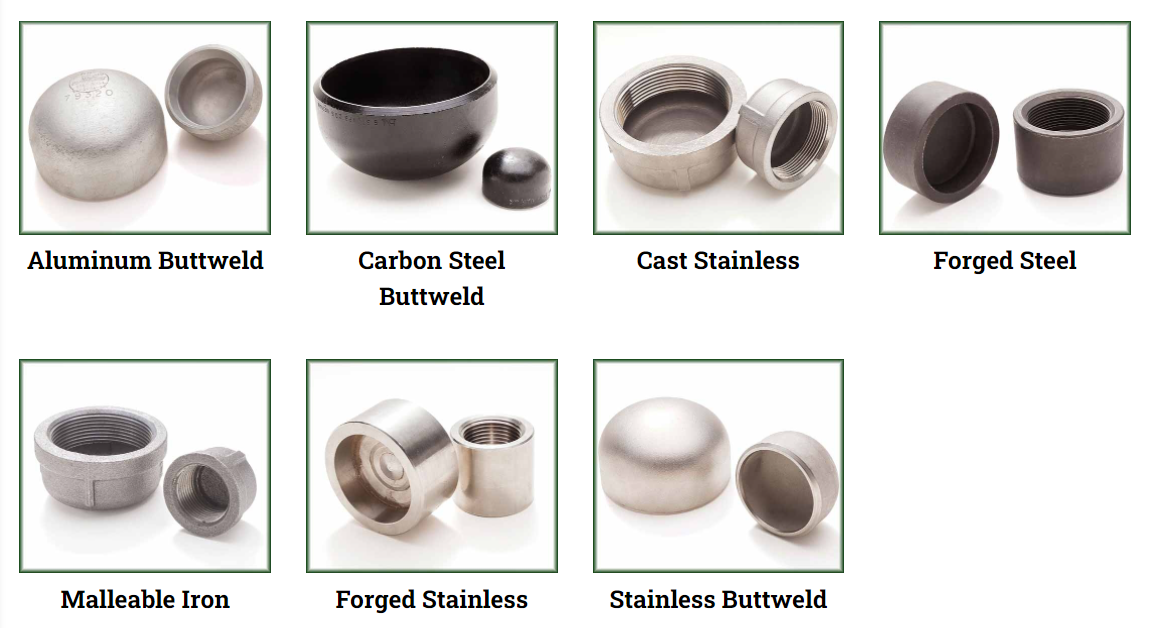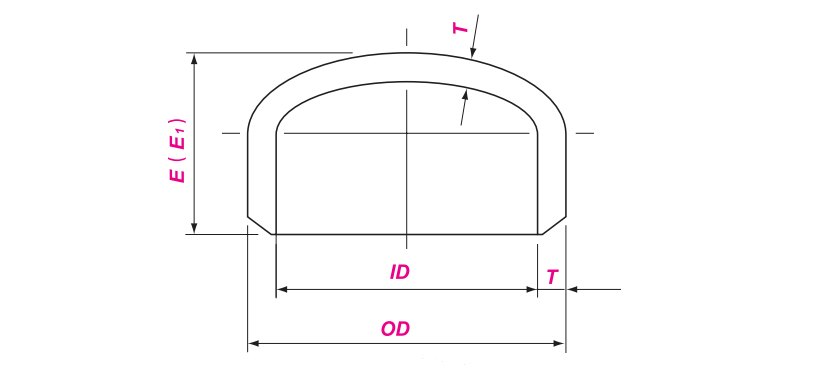 Threaded Pipe Cap Dimensions
DN

NPS

P

D

G

L5

L2

3000

6000

3000

6000

3000

6000

6

1/8

19

–

16

22

4.8

–

6.4

6.7

8

1/4

25

27

19

25

4.8

6.4

8.1

10.2

10

3/8

25

27

22

32

4.8

6.4

9.1

10.4

15

1/2

32

33

28

38

6.4

7.9

10.9

13.6

20

3/4

37

38

35

44

6.4

7.9

12.7

13.9

25

1

41

43

44

57

9.7

11.2

14.7

17.3

32

1 1/4

44

46

57

64

9.7

11.2

17

18

40

1 1/2

44

48

64

76

11.2

12.7

17.8

18.4

50

2

48

51

76

92

12.7

15.7

19

19.2

65

2 1/2

60

64

92

108

15.7

19

23.6

28.9

65

68

108

127

19

22.4

25.9

30.5

100

4

68

75

140

159

22.4

28.4

27.7

33

Threaded Pipe Cap Chemical Composition
| | | | | | | | | | | | |
| --- | --- | --- | --- | --- | --- | --- | --- | --- | --- | --- | --- |
| Grade | C | Mn | P | S | Si | Ni | Cr | Mo | Cu | N | V |
| ASTM A105 | 0.35 | 0.6-1.05 | 0.035 | 0.04 | 0.1-0.35 | 0.4 | 0.3 | 0.12 | 0.4 | – | 0.08 |
| A350 LF2 | 0.3 | 0.6-1.35 | 0.035 | 0.04 | 0.15-0.30 | 0.4 | 0.3 | 0.12 | 0.4 | 0.02 | 0.08 |
| A350 LF3 | 0.2 | 0.9 | 0.035 | 0.04 | 0.2-0.35 | 3.3-3.7 | 0.3 | 0.12 | 0.4 | 0.02 | 0.03 |
| A694 F42 | 0.3 | 1.6 | 0.025 | 0.025 | 0.15-0.35 | – | – | – | – | – | – |
| A694 F46 | 0.3 | 1.6 | 0.025 | 0.025 | 0.15-0.35 | – | – | – | – | – | – |
| A694 F50 | 0.3 | 1.6 | 0.025 | 0.025 | 0.15-0.35 | – | – | – | – | – | – |
| A694 F52 | 0.3 | 1.6 | 0.025 | 0.025 | 0.15-0.35 | – | – | – | – | – | – |
| A694 F56 | 0.3 | 1.6 | 0.025 | 0.025 | 0.15-0.35 | – | – | – | – | – | – |
| A694 F60 | 0.3 | 1.6 | 0.025 | 0.025 | 0.15-0.35 | – | – | – | – | – | – |
| A694 F65 | 0.3 | 1.6 | 0.025 | 0.025 | 0.15-0.35 | – | – | – | – | – | – |
| A694 F70 | 0.3 | 1.6 | 0.025 | 0.025 | 0.15-0.35 | – | – | – | – | – | – |