ERW Steel Pipe Specifications
ERW Steel Pipe in API 5L PSL1/PSL2, ASTM A53, ASTM A500 ,JIS G3466,
We supply a complete offering of high quality ERW Steel Pipe at low cost from mills in China.
►WANT A QUOTE? CLICK <HERE>
Pipe End: square ends (straight cut, saw cut, and torch cut). or beveled for welding, beveled,
Surface: Lightly oiled, Hot dip galvanized, Electro galvanized, Black, Bare, Varnish coating/Anti rust oil, Protective Coatings (Coal Tar Epoxy, Fusion Bond Epoxy, 3-layers PE)
Packing: Plastic plugs in both ends, Hexagonal bundles of max. 2,000kg with several steel strips, Two tags on each bundle, Wrapped in waterproof paper, PVC sleeve, and sackcloth with several steel strips, Plastic caps.
Test: Chemical Component Analysis, Mechanical Properties (Ultimate tensile strength, Yield strength, Elongation), Technical Properties (Flattening Test, Bending Test, Hardness Test, Impact Test), Exterior Size Inspection, Hydrostatic Test, NDT TEST ( ET TEST, RT TEST, UT TEST)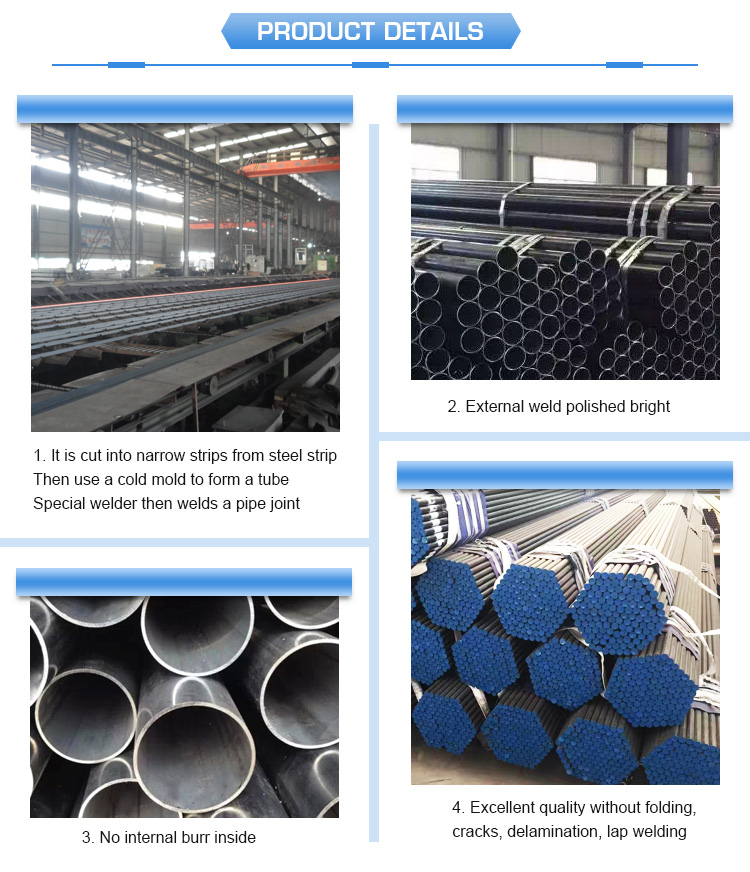 Chemical Analysis and Mechanical Properties
Standard
Class
Grade
Chemical Analysis(%)
Mechanical Properties(min)(Mpa)
C
Mn
P
S
Tensile Strength
Yield Strength
API 5L
PSL1
B
0.26
1.2
0.03
0.03
414
241
X42
0.26
1.3
0.03
0.03
414
290
X46
0.26
1.4
0.03
0.03
434
317
X52
0.26
1.4
0.03
0.03
455
359
X56
0.26
1.4
0.03
0.03
490
386
X60
0.26
1.4
0.03
0.03
517
414
X65
0.26
1.45
0.03
0.03
531
448
X70
0.26
1.65
0.03
0.03
565
483
PSL2
B
0.22
1.2
0.025
0.015
414
241
X42
0.22
1.3
0.025
0.015
414
290
X46
0.22
1.4
0.025
0.015
434
317
X52
0.22
1.4
0.025
0.015
455
359
X56
0.22
1.4
0.025
0.015
490
386
X60
0.22
1.4
0.025
0.015
517
414
X65
0.22
1.45
0.025
0.015
531
448
X70
0.22
1.65
0.025
0.015
565
483
X80
0.22
1.85
0.025
0.015
621
552