1 Main production process of hot-rolled seamless steel pipe (main inspection process):
Tube blank preparation and inspection → tube billet heating → perforation → rolling tube → waste tube reheating → fixed (reduced) diameter → heat treatment → finished tube straightening → finishing → inspection (non-destructive, physical and chemical, Taiwan inspection) → storage
2 cold rolling (drawing) seamless steel pipe main production process
Blank preparation → pickling lubrication → cold rolling (pull) → heat treatment → straightening → finishing → inspection
Hot rolling seamless steel pipe production process flow chart: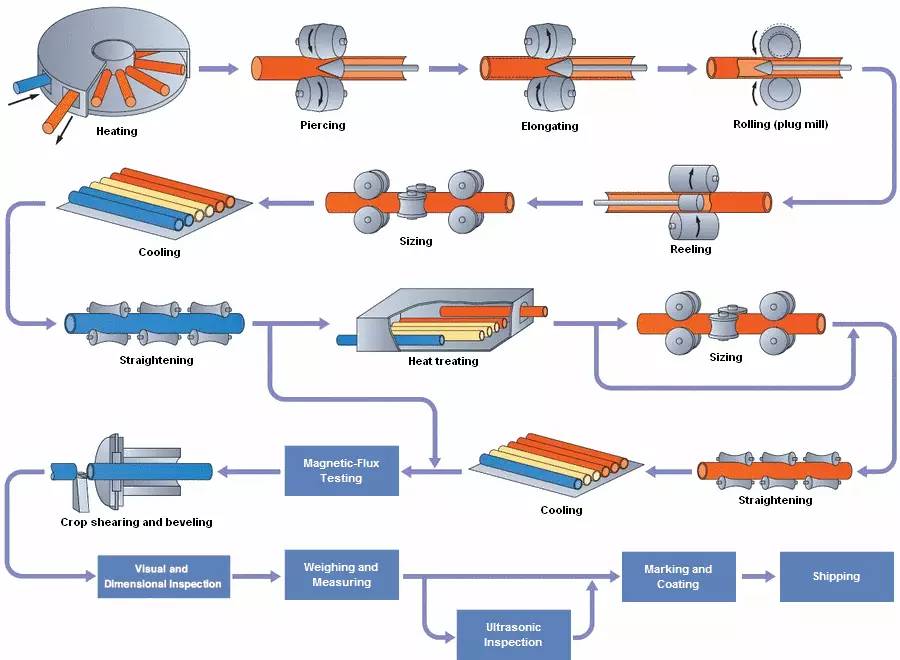 Source: China Metallurgical News Agency
Tips
statement:
1. If you reprint the contents of this platform, you must indicate the source. The works of non-Bengang News are reproduced from other media. The purpose of the reprint is to transmit more information. It does not represent the platform. If you try to check the source, you will not be able to find the source. If you have any omissions, please contact the original or contact or delete it in time.
2. If any work is marked as "rejected," we will not reprint it.
3. For malicious and false reports, we reserve legal rights
Links : Welded Steel Pipe Seamless Carbon Steel Pipe Oil Country Tubular Goods
Alloy Steel Pipe Stainless Steel Products Galvanized Steel Pipe
Pipe Fittings and Flange Structural Steel Section Coated Carbon Steel Pipe